About us
Da Nang residential sales, Da Nang rentals, and Da Nang Real estate 
Danangluxuryrealty is a new website belongs to Toan Huy Hoang Real Estate Company Limited.
Toan Huy Hoang Real Estate Company Limited – Danangluxuryrealty  was established in an era of increasing social advancement and material prosperity.
Due to that fact, the demand for buying houses and renting houses of people is
increasingly diverse and sophisticated.
Since 2014, after almost 8 years of operation, we have been continuously innovating, upgrading, and keeping up with societal development trends to provide the best services in the real estate industry.
Our strengths_ Da Nang Real estate _ Danangluxuryrealty 
We have a qualified and professional source of employees:
Our team of market research experts, consultants, and customer service representatives is available to serve you 24/7.
Market research staff: is composed of experienced professionals that are particularly responsive and flexible in order to keep up with the most recent real estate trends and needs.
Consultant and customer care staff: always uphold professionalism, service attitude with the motto of maximizing values for customers.
Our services – Danangluxuryrealty
Real Estate Brokerage and Consultancy 
We always work to improve trade prospects with our real estate brokerage and consulting services, and we constantly devote attention to the requirements and preferences of our clients. Additionally, we offer clients and project investors consulting on market and pricing solutions as well as efficient sales plans and strategies.
Property Valuation 
We provide you a team of experienced professionals to help you to assess real estate with a detailed and accurate appraisal process.
VISION, MISSION, CORE VALUES 
1. Vision of Danangluxuryrealty
We are continuously refining our professional operating system in order to effectively expand our market across the country and establish ourselves as a reputable real estate company on a global scale by 2025
2. Mission of Danangluxuryrealty
We serve as a connection to provide a happy "home" and tranquil, relaxing resort locations for out clients.
3. Core values 
Professionalism: The main element in assisting HUY HOANG real estate  create a professional image in the eyes of customers and business associates is a team of highly qualified, energetic, and responsible employees working together in a scientific work process.
Prestige: This is something that is verified from the reality, from the positive feedback of customers and partners. We understand that sustainable business is business by a prestige of its self.
Dedication: We always listen, comprehend, and provide accurate and relevant advice as part of our service; at the same time, we always work to make transactions more
valuable for our clients and business partners.
Business philosophy 
"Faith overcomes time."
We constantly believe that today must strive to be better than the day before to be able to earn the belief and support from our clients. From that belief and support are the main motivations to foster all employees and leaders of the Company to improve themselves further and better in the future.
Company culture 
We understand the importance of a friendly work environment to maintain employee morale. Therefore, all employees and leaders of the Company always work together to build an ideal working environment:
The leaders' attitude towards employees: Respect – gentleness – encouragement.
In the employees' environment: Solidarity – emulation – mutual assistance.
Towards customers: Set the Dedication and Prestige  above everything else.
We are very grateful for your trust and companionship in the past time and are pleased to welcome new cooperation in the future. Therefore, be welcomed to contact TOAN HUY HOANG REAL ESTATE to reach the successes!
Contact information
The most recent details about purchasing houses in Da Nang  and renting houses in Da Nang will be updated. Compiling all information about selling property and renting property, buyers can contact the landlord directly to negotiate the price or contact the real estate broker in Da Nang for advice to invest effectively.
If you are looking for information about  buying and selling real estate in Da Nang , it
will be more convenient for you to visit the websitedanangluxuryrealty.com everyday. Danangluxuryrealty.com is a website that summarizes all information about buying and selling real estate in Da Nang  with a full range of types, specific locations, areas and prices.
More details HERE
Call us now, get an immediate response, and reserve your desired home in Da Nang on the market at an affordable price.
Toan Huy Hoang Real Estate Co., Ltd proudly is the leading reputable real estate rental and sale company in Da Nang City. With over 10-year experience in real estate and a dynamic and professional team, we are confident enough to bring the best quality of service to customers. If you are looking for a place to settle down, take a vacation or invest in projects in the "liveable" Da Nang City, Toan Huy Hoang Real Estate Co., Ltd is very pleased to be a bridge to support, consult and find the best solution quickly and efficiently.
Contact information: Toan Huy Hoang Real Estate Company Limited
 Address: 135 Le Quang Dao, My An, Ngu Hanh Son, Da Nang
Hotline: 0943436888 (phone-viber-zalo-kakao talk)
Website: https://www.danangluxuryrealty.com 
Email: support@danangluxuryrealty.com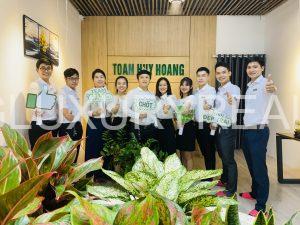 PROPERTIES FOR SALE | PROPERTIES FOR RENT
HERE ARE LOTS OF PROPERTIES FROM MEDIUM BUDGET TO LUXURY ONE